Rubber roofing is a very popular and common type of roof in the Massachusetts/New England area for non-sloped to low sloped commercial and residential roofs. Hurley Bros Roofing specializes in Commercial and Industrial Rubber Roofing, EPDM, Flat Roofing in Boston MA, all of Massachusetts and New Hampshire.
Rubber Roofing Advantages:

Long lasting
Low maintenance and easy to repair
Price
Rubber Roofing Information
Rubber Roofing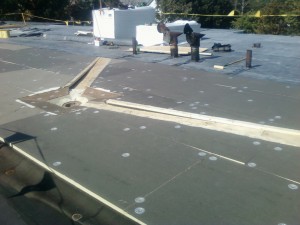 The rubber is a dark color, which is ideal for attracting heat and can add certain energy advantages. There are three different types of applications for rubber roofs. They can be fully adhered, mechanically attached or loose laid. Ask a representative which is the best system for your building.
New Rubber Roofing Installation, Rubber Roof Repair | Massachusetts Commercial and Industrial Roofing Company.
Call us at 978.851.6300 for a free estimate for Rubber Roofing/EPDM Roofing or any other commercial or industrial roofing needs in Greater Boston, or all of Massachusetts and New Hampshire.
See our Roofing FAQ  for more information.
We are fully licensed, insured and offer free estimates. Our employees take pride in their craftsmanship, which is evident by our past roofing projects and our Massachusetts Roofing Contractor Services Testimonials.
Hurley Bros. Roofing Corporation has been a family owned and operated business since 1975.
Hurley Bros. Roofing Corp. specializes in commercial and industrial roofing as well as sheet metal work. We offer installation of new roofs, tear-offs, roof repairs, roof maintenance, and any sheet metal needs.
Formerly located in Somerville, MA the company has recently moved to Tewksbury, MA and is still serving Greater Boston, all of Massachusetts and New England.
Professional Licenses
– Construction Supervisor License
– Master-Unrestricted Sheet Metal Worker
– Occupational Safety and Health Administration (OSHA) 30-hr certification
– OSHA 10-hr certification
– Rigging and Crane Awareness Certification
– Signal Training Certification
– Class 4 & 7 Certified Operator, Powered Industrial Trucks
Authorized Applier of following Manufacturer's: Carlisle, SikaSarnafil, Firestone, Versico, GAF
Massachusetts Roofing Contractor | Flat Roofs, Rubber Roofs, EPDM Roofing